Burberry Bespoke fragrances - Luxury Retail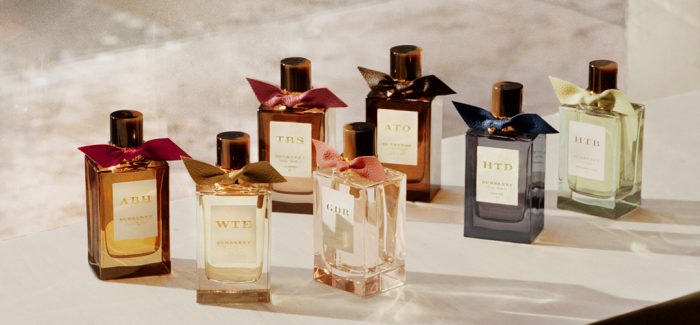 Welcome Burberry Bespoke: A collection of seven mesmerizing fragrances
If there is one thing that can complete your personality with a lasting touch, it is the fragrance that you choose to wear. While there are several labels out there, offering you the very best when it comes to perfumes, hardly any can match up the Burberry reverie. The British brand recentlylaunched an exciting new ensemble that includes seven new fragrances for the many shades in you.
Christened as the Burberry Bespoke, the novel collection takes inspiration from the British artistry, elements, and landscapes. Each of the unique scents is conjured by master perfumer – Francis Kurkdjian alongside the creative direction of Christopher Bailey. Each fragrance caters to a different sensibility as you can see below:
Hide Tide: A renewed scent made from marine notes with underlying tones of jasmine and oak moss. This one captures the "the contrasts and scenery of the sea coast; rocks and blue water under the vigorous marine tide."
Tudor Rose: An iridescent rose fragrance that combines hints of the Bulgarian Damask Rose and May rose in a fresh base of patchouli and ambergris, presenting a mark of serenity and strength.
Amber Heath: A modern scent that merges flavors of amber, vanilla, patchouli and ambergris in a bottle. This one offers an ode to the romantic atmospheric interpretation of the golden light of sunset over a courtyard in bloom.
Wild Thistle: A floral fragrance made from green leaves, galbanum oil, flowers, and geranium, to represent the spacious green area under the heat of the Scottish sunshine.
Hawthorn Bloom: A delicate scent composed of Iris and booming Yorkshire spring with fresh undernotes of orris root, violet, patchouli, musk, and jasmine.
Antique Oak: This one takes inspiration from the British shipyards and is made from accords of oud, leather, earthy and refined safflower and papyrus.
Garden Roses: Representing the classic English roses set in a Bloomsbury garden, this one is a unique blend of fragrant Bulgarian roses, Italian lemon, and vetiver.
Each of the Burberry Bespoke bottles can also be personalized with the choice of 16 different leather strips that go around the neck of the bottle.