BMW Motorrad Concept Link - Luxury Retail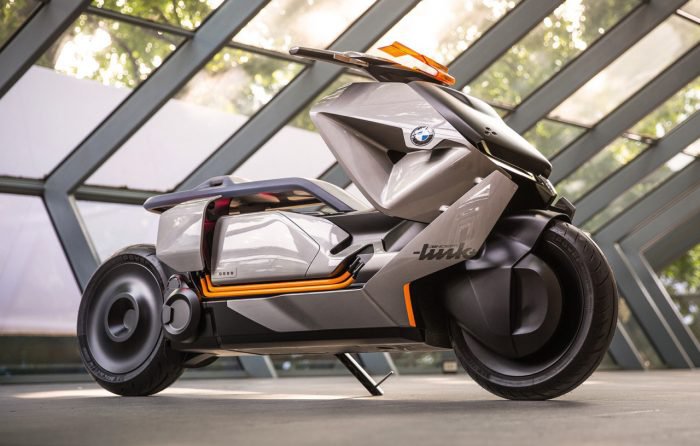 The BMW Motorrad Concept Link Foretells the Future of Urban Mobility
The angled two-wheeler isn't so insanely futuristic as the BMW Motorrad Vision Next 100 – a concept with a far more distant explorative outlook than this near-future exploration, one representing BMW's "vision of zero-emission urban mobility on two wheels".
Sitting somewhere between a scooter and a motorcycle, the elongated low-slung profile of the BMW Motorrad Concept Link appears notable less brutish in both appearance and spirit than its beefier black carbon fiber sibling, sporting all sorts of futuristic features connecting rider with bike, with a more approachable Liquid Metal Titanium, black matte, and glowing orange silhouette. A companion riding jacket with integrated wireless controls is envisioned to permit riders to swipe across their sleeve to access a sliding door luggage and helmet compartment across the body of the BMW Motorrad Concept Link.
Individually assignable touch operated shortcut keys across the handlebars add functionality set uniquely to the rider, while speed, navigation and battery status is projected onto the compact windshield at a more ergonomic height. The vehicle can even be connected with the rider's personal calendar; in doing so the BMW Motorrad Concept Link could optimize routes to keep being late to a meeting or party a thing of the past.
That seems to make the BMW Motorrad Concept Link equally an emotional expression of the personalized vehicles BMW think we may want, as well as a practical solution serving riders requiring to navigate dense cities.