'Beauty and the Beast' by Christopher Kane - Luxury Retail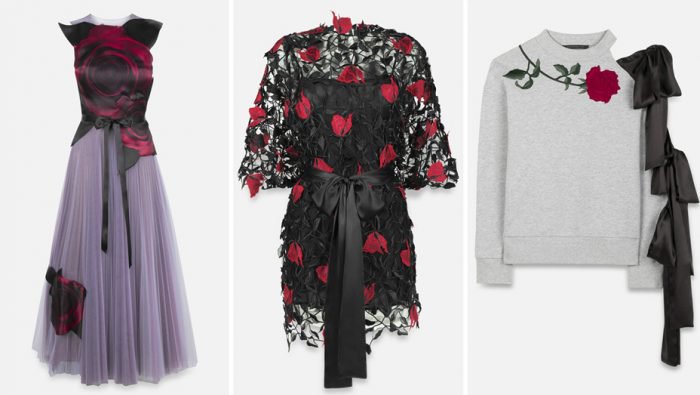 Christopher Kane designs capsule collection inspired by 'Beauty and the Beast'
The classic 'Beauty and the Beast' fable has spawned a new movie, a live-action remake of the 1991 Disney animation film. Now, it has its own fashion collection.
To celebrate the worldwide release of Bill Condon's film, British label Christopher Kane has created a limited edition collection of men's and women's clothes and accessories, available in-store and online from 16th March – one day ahead of the movie.
An enchanted rose, the film's signature motif, features ubiquitously in the collection: as an organza application on tulle and lace dresses, embroidered or printed on tee-shirts and even on the label's iconic handbag studded with Swarovski crystals, a recurrent theme in Kane, who has collaborated with the Austrian brand for 10 years.
The film's setting inspires the collection's colour palette: gold and blue hues from the castle's interiors, and the vivid red of the enchanted rose.
"I have loved Disney's classics, like 'Beauty and the Beast', since I was a child. The theme and the plot are first-rate, with striking characters and a strong female voice. Thinking back on previous seasons, our archives contained a wealth of items suited to the film's themes, and the films' own settings and mood have been a great source of inspiration," said Christopher Kane.
This marks the first time that Disney and Christopher Kane have collaborated with Eco-Age, a consulting firm specialised in business sustainability. The goal: to prove that ethics and aesthetics can go hand in hand, and that brands can create narratives by highlighting their choice of materials and manufacturing techniques.
The collection also features a string of unisex items and is available at Christopher Kane's Mount Street store in London, on the label's website and at selected premium retailers such as Selfridges in London, The Webster (Miami and Costa Mesa, USA), Shinsegae and Isetan in Japan, Joyce in Hong Kong, Breuninger in Germany and Banner in Milano.