"Artful Jewels" Louis Vuitton - Luxury Retail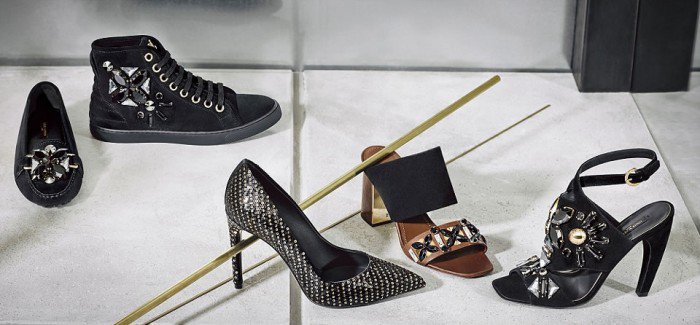 Titled "Artful Jewels" the collection drew inspiration from a variety of sources including graphic shapes, shiny accessories and relaxed fabrics. Though crafted primarily in all black, these shoes are anything but basic thanks to the glitz of their many and varied embellishments. The five piece collection features both heels and flats and was captured by photographer Roe Ethridge in a beautiful campaign that encapsulated the jewel theme.
The Midnight Sun Pump, $1,210
This single soled satin pump stands apart from the crowd thanks to its black and gold sequin embellishment. Pair this with an evening gown for a dose of Hollywood high-glamor.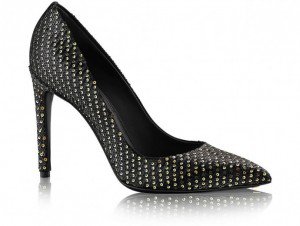 Parure Sandal, $1,710
Crafted from suede baby goat leather, the sandal features a curved "banana" heel and is richly adorned with beads and sequins in a motif inspired by Louis Vuitton's Monogram flowers. The Parure sandal is also available in an eye-catching violet shade.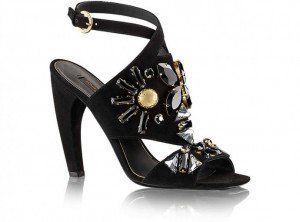 Artful Mule, $995
Mules have ruled the runway for a few seasons and the trend is showing no signs of slowing down. LV's Artful mule features an interesting combination of materials including suede baby goat leather, plain calf leather and a wooden block heel. The tan leather strap is embroidered with beads and sequins in the brand's signature monogram floral motif.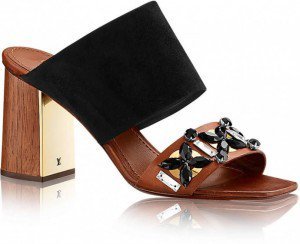 Punchy Sneaker Boot, $1,200
This calf leather high-top sneaker features the beaded flowers on the side and a gold LV logo in the tongue and gold eyelets for the laces. We can easily picture these on sneaker loving celebs like Kristen Stewart and Cara Delevingne.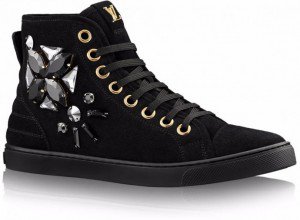 Silver Night Loafer, $880
Last but not the least are the suede calf leather loafers complete with the jewel-like floral beading and contrast stitching details. This revamp of the iconic Oxford loafer is a chic flat footwear choice for party nights.