24k GildedSteinway & Sons Grand Piano at Auction - Luxury Retail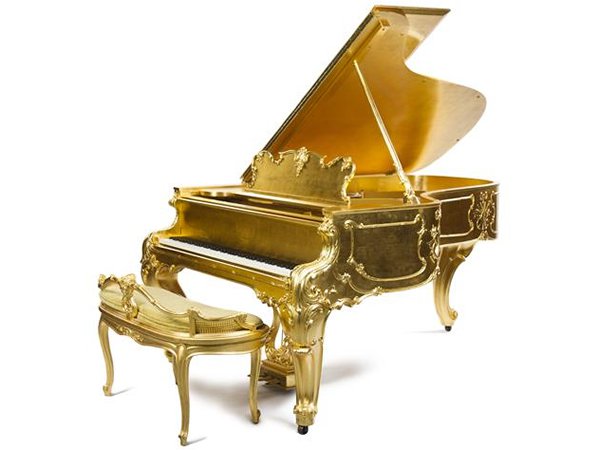 On April 28th, a rare Steinway & Sons Louis XV-stylegrand piano will be auctioned off by Leslie Hindman Auctioneers. This will happen during the auction house's Fine Furniture and Decorative Arts sale, and online live bidding will also be possible. This particular grand piano is not like any other you may have seen before. It is completely covered in 24k gold, having been crafted for the 50th anniversary of the fabled piano manufacturer.
The Model B piano, serial number 108815, dates back to 1904 and was made by top craftsmen assigned to the task by Joseph Burr Tiffany, who was a the lead artist in the art case department at Steinway & Sons, and also a relative to the founder of Tiffany & Co. The body is entirely high quality mahogany, but that cannot be seen underneath the rich golden cladding.
Among its prominent owners we mention Mark Fritz, who kept it from 2004 until his demise last year, Benjamin SawtelleHanchett and his family, who owned the instrument for six and a half decades, and New York banker William Stafford, who kept the gilded piano in his Plaza Hotel luxury residence.
By luxedb.com