Historical and Artistic Chess Collection by Piero Benzoni - Luxury Retail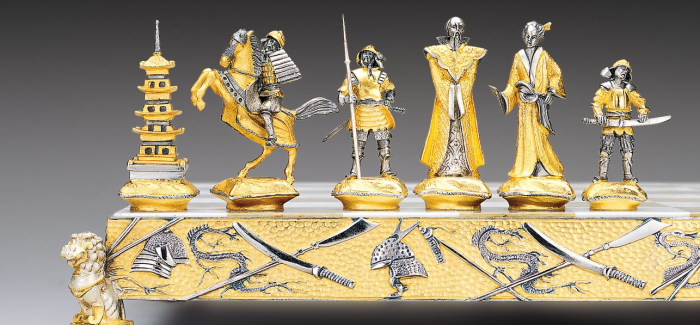 Historical Gold and Silver Chess Sets by Piero Benzoni
Piero Benzoni has crafted a stunning line of limited edition Historical and Artistic Chess Collection chess sets.
These elegant, ornate and decorative themed chess sets are gold plated and silver plated solid bronze.
Each of these chess sets is completely handmade and signed by the sculptor. Using the finest materials, the artistry in these luxury chess sets reveal an unrivaled attention to detail and a mastery of lost wax casting.
The chess sets historical themes are heavily weighted toward Europe (English cavalry, Napoleon Bonaparte are two examples), but there are some exceptions, such as Samurai pieces.
You can purchase chess sets in complete chess sets or separately as chess pieces, chessboards, and chess tables.
Each figure in the Historical and Artistic Collection is signed "Piero Benzoni". Expect to pay anywhere from $8,000 to more than $20,000 for one of these sets.