The Topaz luxury yacht - Luxury Retail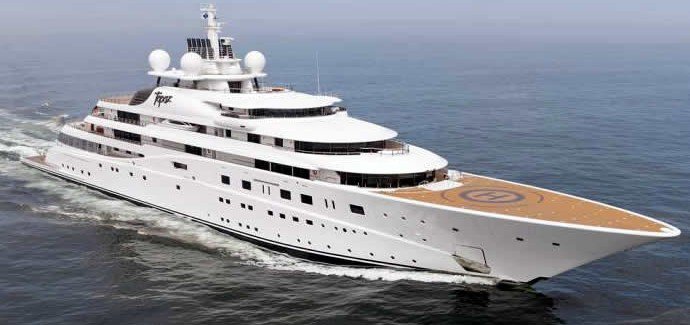 Inside the  £400 million insane luxury yacht that Leo Dicaprio hired to watch and enjoy the World Cup in style
Next time you're in a World Cup host city, you might want to take a cue from Leonardo DiCaprio on how to make the most of your game and time. The Wolf of Wall Street star, who was last seen in Brazil borrowed the Fifth largest superyacht in the world to party it up, FIFA style.
Meet Sheikh Mansour bin Zayed Al Nahyan, Man City owner and deputy prime minister of the United Arab Emitates. The Topaz was custom built by Lurssen Yachts for the billionaire in 2012 in Germany. Yep, that's what it's called – Topaz – and the vessel is a massive 147 meters.
So while its helipad  can be seen dotted with over a dozen loungers, the pool on the yacht deck is perfect for any of the 21 others aboard wanting a soak. He jetted 21 friends down before the kick off game between Brazil and Croatia in San Paulo.
Designed by the renowned Tim Heywood, the $700 million superyacht features a full displacement steel hull, a lighter aluminium superstructure and consists of eight floors. Three swimming pools, a gym, jacuzzi, cinema and not one but two helipads.