The Best Spa Gyms in London - Luxury Retail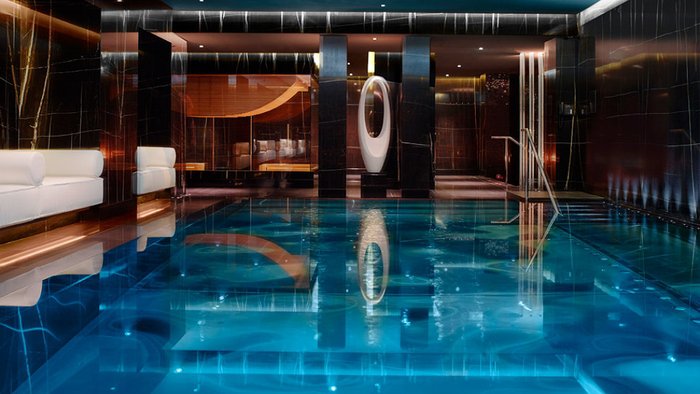 Keep in touch with your mind, body and spirit this autumn.
Going to the gym can be energising and relaxing in equal measure, all the more so when you can reward a particularly strenuous workout with a stint in the spa.We have put together a list of the best gyms with spa facilities in London, so you can work up a sweat and be good to yourself this autumn, all with the added pleasure of great amenities that will make that bar of chocolate seem less of a temptation than you thought.
ESPA Life at the Corinthia Hotel London
Part of the luxurious Corinthia Hotel, the ESPA Life centre is a unique and gloriously decadent way to approach physical wellbeing. The fitness centre is fitted with all the equipment you could want, as well as providing outstanding one-on-one training from their team of highly skilled personal trainers. However, the main appeal of ESPA Life is the fantastic spa packages and treatments available on site.
Ease yourself of the aches and pains of exercise with a specialist bamboo joint massage or let your stress slip away with their acupuncture spa package, which fuses traditional acupuncture with personal massage. Support it all with a nutritionally tailored menu that will revive your body and spirit. If you're unsure as to what treatment your exercise-battered body needs, book yourself in for ESPA Time, a two- to four-hour session where expert therapists assign various treatments that they deem to be the most beneficial to your body on an individual basis. More info
Equinox Gym, Kensington
With gyms that span across a large percentage of America, Equinox are committed to providing you with that Hollywood body that you've been looking for. Equinox in Kensington is no different, with a broad range of classes ranging from more gentle work outs such as yoga and Pilates to more extreme whole body workouts like 'whipped!' – a class that pushes your body to its limits using a combination of strength ropes, kettle bells and body bars.
Equinox also offer an unparalleled level of training for those looking to make sure their fitness is the right level for a marathon or competition. Start by working on your core strength and progress from there in their 3-step cyclical program that gets more intense with each full cycle, meaning you won't plateau and can continue to grow. Then follow up with the regimes on their 5-tier program to get the most out of your gym experience. Fitted with all the best equipment and offering services that include genetic analysis and metabolic testing for the serious gym goers, Equinox will transform you into the person you've always wanted to be.
After successfully completing the rigorous routines, your muscles will be begging for a trip to the spa. With a large assortment of massages and skin treatments available, as well as more specialised treatments such as teeth whitening and laser hair removal, the spa has everything you could ever need to feel your best.  More info
The Fitness Studio at the Dorchester Hotel
The fitness studio is equipped with a full range of Technogym cardiovascular and resistance equipment, as well as weights and medicine balls. Offering personal training on request, The Dorchester's fitness studio is ideal for those looking to begin an exercise regime without the pressure that comes with some gyms. Casual and enjoyable, the gym experience offered will get even the most reluctant hooked on getting that adrenaline pumping this season.
The spa at the Dorchester offers some wonderfully unique ways to wind down after your work out. Try their La Prairie spa treatment, an intensive anti-ageing program that utilizes biotechnology as well as cosmetic artistry to enhance and re-energise your appearance, leaving you feeling like a whole new you. More info
Bodyism at the Bulgari Hotel London
Offering a holistic approach to personal fitness and body image, Bodyism at the Bulgari Hotel London have put together their classes and treatments to benefit you in any number of ways. Mirrored rooms with all the latest fitness technology provide you with the tools you need to improve your personal being, as well as a range of bespoke supplements and nutrition for optimum results. Their fitness regimes are specifically designed to strip fat, improve posture and performance and enhance your general health.
The Bulgari spa on the other hand is a paradise of relaxing treatments and procedures that will make you feel years younger. Hire their private onyx suite treatment room and you and a partner can enjoy hours of comfort and relaxation including a treatment of your choice, or spoil yourself with the Thai escape full body signature treatment and sink into a world of steamed herbal compress and acupressure massage for an exotic escape. More info
The Rosewood London Fitness Suite
A contemporary facility fitted with the best in Technogym equipment including treadmills, cross trainers and elliptical machines as well as resistance machines and a large selection of accessories to aid your workout, Rosewood's fitness suite is tailored to your every need. Personal training is available if you prefer a bit of guidance and everything from daily magazines and newspapers to fruit and nuts are provided to make sure your experience at the suite is phenomenal. Bathed in glorious natural sunlight, the atmosphere of the gym is one of raw energy and determination.
Once your session is over, relax in Rosewood's harmoniously Zen Sense Spa. Wooden walkways pave the way over babbling brooks and pebble stones to bamboo-walled treatment rooms. Detox in their dry heat sauna, and then relax in their amethyst crustal steam room. Rehydrate in the gold leaf and teak relaxation room and let your body recuperate and revive in the mystical atmosphere. The aftereffects of even the most intense workout will just melt away. More info