'Sicily my love' by Dolce and Gabbana - Luxury Retail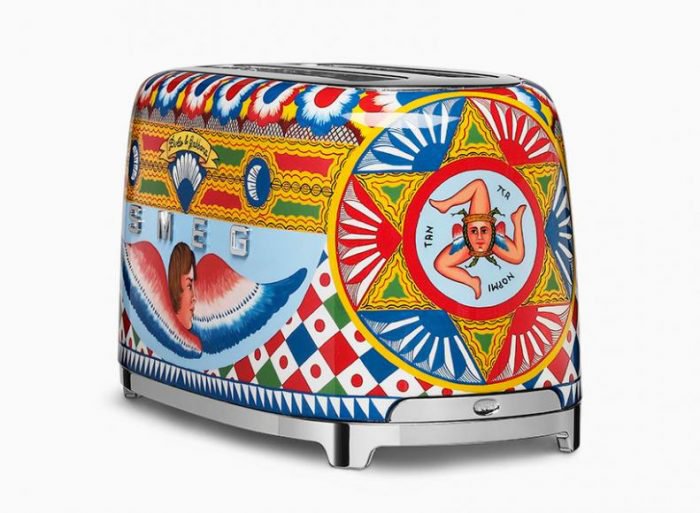 Smeg collaborates with Dolce and Gabbana for designer kitchen appliances
Whoever thought kitchenware could someday look like a flourishing fleet of art was after all not entirely wrong. 
Rendering aesthetic and visual value to the boring and lack luster cooking appliances is Dolce and Gabbana who recently tied up with Smeg for a unique designer line that consists of the latter's small kitchen appliances painted in exotic art forms, courtesy the revered and celebrated designer label – D&G of course.
The Italian marquees have joined hands to remix regular kitchen objects such as the toaster, juicer, coffee machine, kettle, and blender into modern pieces of art. Touted as 'Sicily my love', these domestic appliances come adorned with extremely decorative works that predominantly include traditional Sicilian motifs and ornamentation.
Drawing much of their inspiration from Sicily, D &G has festooned the majority of the collection with objects like golden yellow lemons, vibrant citrus fruits, and deep purple figs, all reminiscent to the coasts and landscapes of southern Italy. One can also spot images of Mount Etna on the Blender, which is further circled in with ornamental depictions and delicate floral patterns.
This isn't the first time the two companies have joined hands. Early last year, the brands teamed up to create hundred limited edition designer refrigerators that were equally suggestive of the rich Sicilian traditions. While the prices for the new collection are yet to be revealed, they certainly won't come cheap (if we were to take any ques from the $ 33,493 refrigerators). Either ways, the luxe collection will be displayed at Salone del Mobile, the annual design show in Milan next week for those interested to take a peek.