Printemps Christmas Window Displays - Luxury Retail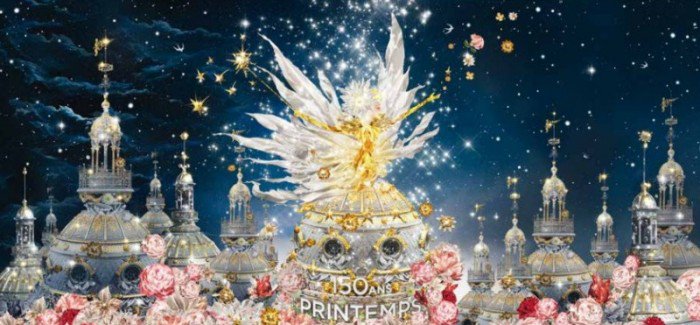 Printemps Celebrates With Christmas Window Displays And Lancôme Pop Up Store
Enchanting themed window displays designed by talented artists and designers have always enthralled shoppers and passersby.
In keeping with tradition, the facade and the windows of the Parisian department store, Printemps, has been worked upon to celebrate 2015 Christmas as well as the its 150th anniversary. The Printemps Christmas Fairy Tale window displays at the Printemps department store will be unveiled on 6th November and for the very first time all 11 window displays will be animated on the Boulevard Haussmann.
The highlight of the evening, apart from the festive display, will be the presence of Kate Winslet, ambasaddor for Lancôme, a major brand partner for this 2015 edition, and Philippe Découflé, stage director of the window displays and façades for the Boulevard Haussmann store, as well as Paolo de Cesare, President of Printemps.
Along with Lancôme, Printemps has also joined hands with Longines, Burberry, Christian Louboutin, Evian and Sonia Rykiel to add charm to each of the windows which will portray a magical picture of the incredible metamorphosis brought about by the fairy and her cheery companions.
The renowned French department store will also wrap up its 150th anniversary celebration by staging a truly exceptional Christmas event. Inspired by a fairy tale written in its honor in 1911, the store is bringing back its eponymous Printemps Fairy to make everyone's dearest wish come true on the occasion of the store's 150th anniversary.
The exceptional event that is the first of its kind in the history of the department store is designed to deliver the experience of a unique Christmas full of magic, poetry and fantasy. Philippe Découflé is the creative brain behind the decoration of the store fronts, the famed Boulevard Haussmann shop windows as well as the main event of the Christmas festivities. For the festive season, Philippe Découflé will be dressing nine windows in association with the Printemps teams. To create even more magic, two windows will provide an interactive experience for passers-by. The Printemps Fairy will flit through these magical worlds bringing springtime to Christmas.
On the Boulevard Haussmann façade, a 5 metres tall 3D version of the Printemps Fairy will wave her magic wand, triggering a 15-minute light show for the magical spectacle.
For the first time, the main entrance to the store will be used to set up a trial pop-up store created with Maison Lancôme which will offer beauty sessions as well as exclusive products specially created to celebrate Printemps' 150th anniversary.