MusicMachine 3 by MB&F - Luxury Retail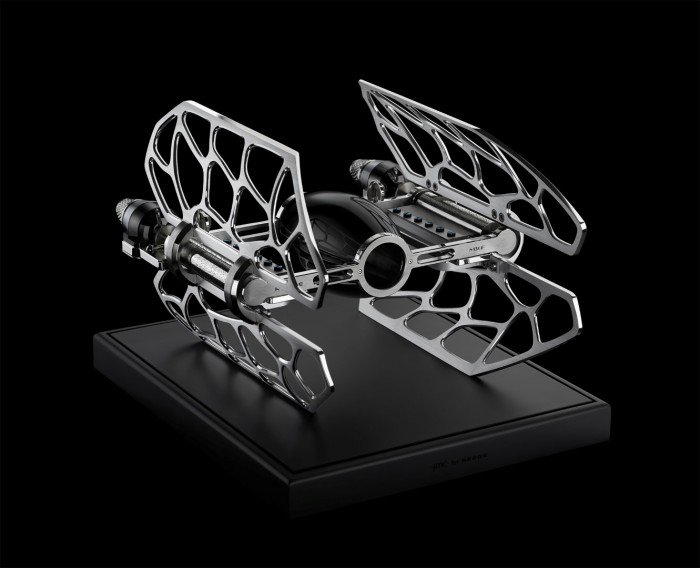 A Sci-Fi Music Box
Drawing inspiration from the famous Star Wars series of the late 70's, the Swiss watch brand MB&F recently collaborated with Reuge–famous manufacturers of luxury music boxes since 150 years–to launch their latest creation.Titled the MusicMachine 3–the Tie-fighter lookalike music box is a strong retrospective of MB&F's Founder Maximilian Büsser's childhood memories of the 70's sci-fi show.
Crafted in aluminium and steel, the music box features lattice-like vertical wings which support and protect the dual music cylinders in the centre, each playing three melodies–the theme tunes from Star Wars, Mission Impossible and James Bond on the right wing, while The Godfather, Merry Christmas Mr. Lawrence and The Persuaders play on the left wing.
With a futuristic finish the MusicMachine 3 features a beautiful mélange of traditional elements all cased in a high-end mechanical music box. It is powered by two independent keys mounted on the tail sections. The video below will serve as the perfect guide on how one can operate this futuristic music piece.
Not only does it look advanced, it also sounds the same, thanks to the wooden cases which hum more like guitars and violins transmitting musical vibrations through its webbed wings. Upgrading the portable music sector, the MusicMachine 3 is limited to only 99 pieces in the world with 33 pieces in white finish, 33 in black and the remaining33 polished in chrome.