Lower Foxtail Residence - Luxury Retail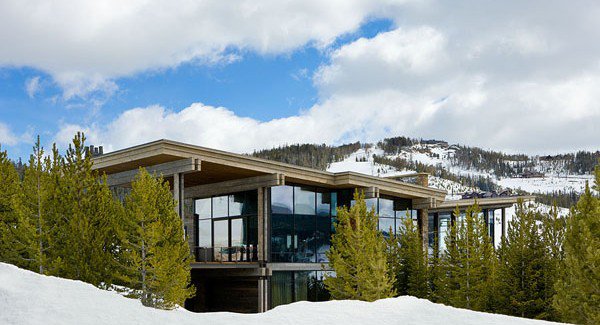 Designed by Reid Smith Architects, the home sets the bar for energy efficient modern homes in the Rockies
This contemporary Lower Foxtail Residence hovers in the pines stretching laterally to take full advantage of the bold mountain views in Big Sky, Montana.
Contemporary luxury chalet in The Yellowstone Club.
Designed by Reid Smith Achitects & Teton Heritage Builders, Lower Foxtail Residence is located in the Yellowstone Club, a residential club, ski resort, and golf resort located in the state of Montana.
Walls of glass merge the interior with the outdoors, capturing stunning views of the surroundings. The home features clean lines tucked in among predominantly rustic cabins in The Yellowstone Club. The warm and cozy interiors have been architecturally designed by Len Cotsovolos of LC2 Design Services, who designs luxury interiors throughout the country. Teton Heritage Builders was responsible for the construction of this incredible property.
The exquisite taste and excellence for interior Reid Smith Architects & Len Cotsovolos has achieved excellent way to define the Lower Foxtail Residence, with touches of splendor that add magic to this brilliant structure where the glass and polished lines play a important role.
The rest is up to nature, with lush vegetation that seems to define the perimeter guarding, as if it were of a treasure chest, with an absolutely flawless in every aspect of its internal composition.