Juliá Travel travel agency decoration - Luxury Retail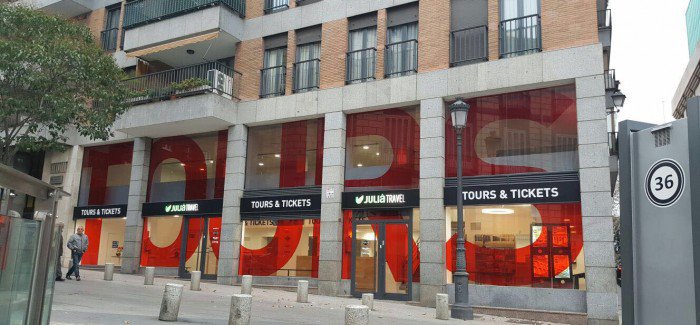 Juliá Travel travel agency decoration. Plaza de Oriente, Madrid
BIGPRINTS takes care of the whole production of different elements comprising the agency interior decoration as well as its outdoor sign board, giving a renewed image to the travel agency.
Grupo Juliá transmits its more than 40 years of experience in the business through their broad office-and-agency network spreaded worldwide. Fully specialised in touristic services, national and long-distance travels, the store interior decoration aims to show this vast variety of possibilities.

Through graphic printing and customised furniture we made it to provide the agency with a unique decoration showing every destination and service offered. Magnets on furniture and printed pvc materials allowed us to create a travel agency decoration being true to their own style. Another element included was the neon set on one of the windows, thus highlighting the agency as an information point and catching the eye of the potential client.
Having a look at agency outdoor sign board we have to focus on two elements that clearly stand out: large-format vinyls creating the word TOURS and lightboxes.

Vinyls are produced on a red solar see-through adhesive plate set on the windows surrounding the store. Lightboxes are made of optical methacrylate with LED backlighting covering the two façades on a linear disposition with the brand image.
New Juliá Travel agencyl ocated at Plaza de Oriente is now much more visible both in daytime and night for the pedestrian thanks to the new image showing its new decoration.
#decoration #travelagency #customised furniture #interiordecoration, #graphicprinting #outdoorsignboard