Fashion Café by Marques & Jordy, Abu Dhabi (United Arab Emirates) - Luxury Retail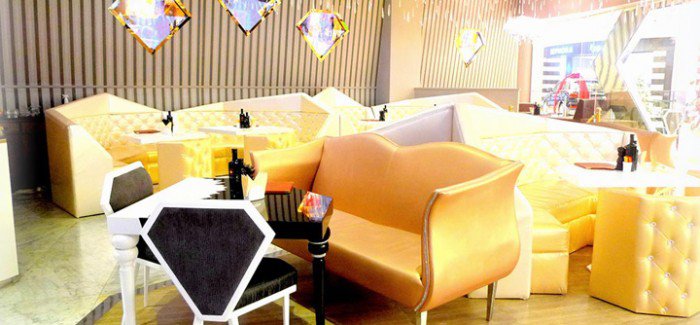 Marques & Jordy joins Fashion TV to announce the opening of Fashion Café in Abu Dhabi.
The most recent retail store from the Fashion TV brand has opened to the public in the Al Wahda Mall (ground floor of the new extension) in December 2012 and very quickly became a focal set for glamour and elegance amongst locals and visitors.
Welcome to Fashion Café
Fashion Café welcomes its guests in a sparkling ambience of diamond shapes; the door to retail store; TV screens embed in the wall showcasing the latest news and catwalks footage of the fashion world; an over scale FTV logo of crystal dropping chandelier and furniture in tones of gold and silver. All the furniture was tailor designed by Marques & Jordy to emphasize the Fashion TV brand from diamond shaped sofas, chairs, tables and cushions. The café has an area of 150sq.m, offering glamour and elegance to indulge the senses. 
""It was a pleasure to have worked with Fashion TV on Fashion Café Abu Dhabi. M&J developed the design of the space and furniture inspired by Love and Diamonds, reflecting the concept brand of FTV " -said Jordy Fu, President and Creative Director of Marques & Jordy.