Fabergé at Harrods - Luxury Retail
JUSTSO Create One Of The World's Most Complicated Interactive Projection Campaigns For Fabergé ?World's brightest projection finds home in Harrods London department store.
Fabergé at Harrods by JUSTSO, London – UK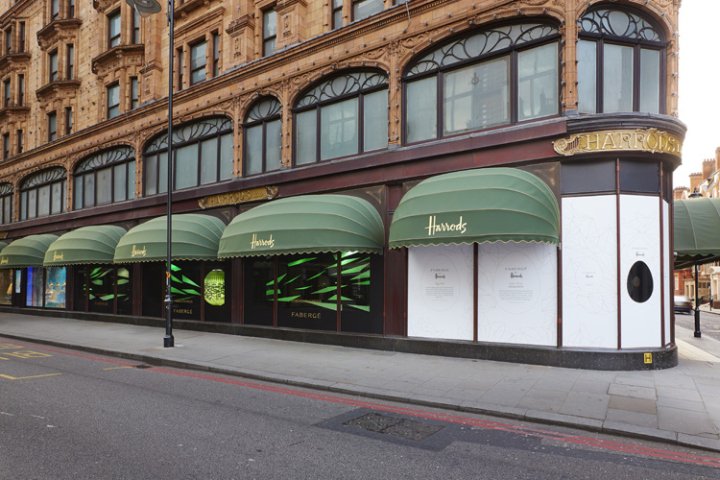 BRIEF
JUSTSO was commissioned by Fabergé to create and develop their pre-Easter 2015 campaign. Stuart Henry, award-winning international window designer, conceived the idea of a virtual egg. Stuart with his team at JUSTSO visualised an interactive projection art installation exhibited on a 1.5 metre 3D egg- shaped model. The projection would then be emulated and emitted through suspended shards producing the effect of an explosion.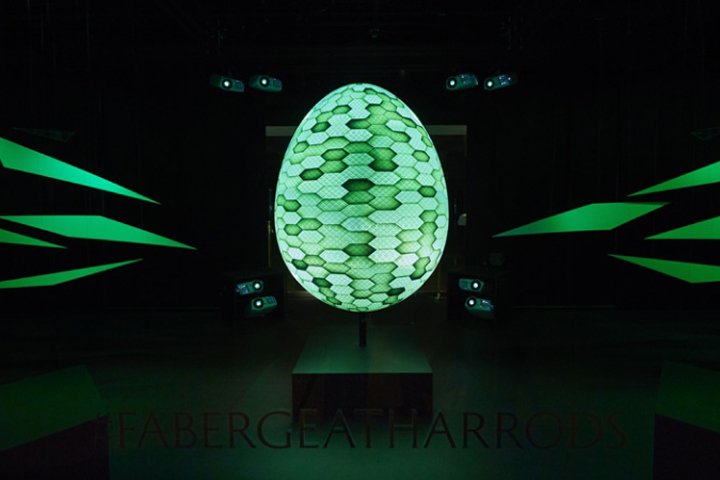 CONCEPT
Fabergé will showcase ten of their most iconic egg designs as part of an interactive experience. Users will be able to select a design from the interface causing the egg to display an explosion sequence. This sequence is aimed to represent a precious gem for each season emerald as spring, ruby as summer, sapphire as autumn and finally diamond as winter. The animation will be emitted across 18 metres of window display onto the surrounding shards creating the image of the egg exploding and then reforming into the user's chosen design. A unique interaction at Harrods that allows a rare opportunity for the general public to create their own window scheme. Stuart Henry, managing director 'JUSTSO wanted to create an interactive experience that would push the boundaries of window design, whilst keeping the DNA of the brand at the forefront'.
TECHNICAL
A genuinely daylight visible projection was imperative to the project, a huge technical challenge. Not to mention that a 3D egg is the one of the most difficult objects to project onto, as it has no alignment points, requiring 264 reference points. This was made possible by the unique technology provided by DisplayMapper, which works by applying large amounts of light to relatively small areas. The Fabergé egg is covered with an unprecedented 14,500 lumens/sqm, around 200 times brighter than a typical outdoor building projection. All made possible by the ground-breaking production tool D3 4 x 4 Pro, which enabled the ability to simulate and produce a flawless animation. In total the projection is composed of sixteen projectors. A high amount of detail was required for the design projection. We utilised genuine eggs for this aspect, which measured only 15mm in height. We produced ultra-high resolution 360-degree photos of the eggs. This presented major issues with depth of field, and each egg required 64 photographs from different focal lengths to create the highly detailed 360-degree models. The final animations were then rendered out in 16-x HD resolution enabling us to project onto the larger scaled egg. We used these materials to also produce a cohesive 'magic-mirror' exhibited on the exterior of the store to display each design. Both the egg and shards used in the installation were bespoke commissions. The egg was a lengthy process, which we produced from polystyrene and coated with resin.