Dior Opens First Makeup Boutique in New York - Luxury Retail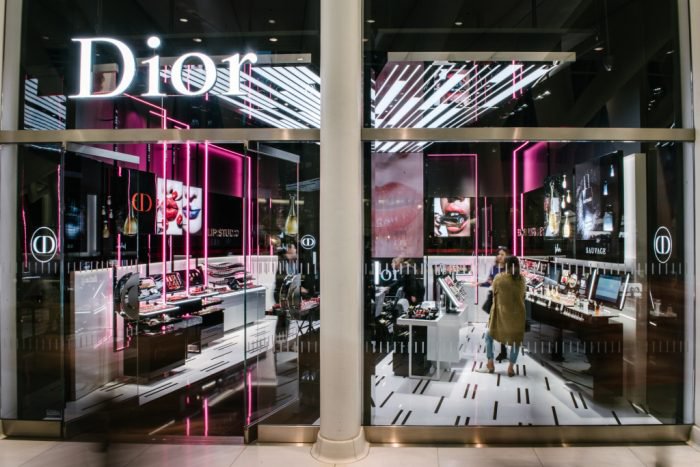 Dior opens a big apple beauty standalone
The brand built its first cosmetics concept store in the Westfield World Trade Center.Dior Beauty is breaking new ground today with the opening of its first boutique focused on makeup in a bid to recruit Millennials and garner more of the red-hot cosmetics market. It is housed in a striking building, the Oculus of the Westfield World Trade Center in lower Manhattan.
Renaud de Lesquen, president of North America of Christian Dior Couture and Parfums Christian Dior, said one of the reasons New York was picked as the site of this first makeup concept store was the design of the center. "This Oculus is just amazing," he continued. "It's something that doesn't happen overnight and so we are very proud and very happy to have this new landmark for Parfum Christian Dior, with this new, one-of-a-kind concept boutique."
The 650-square-foot shop was designed to exude an ambiance of backstage in a fashion show with a large floor-to-ceiling video screen, flashy photographs and six work stations where a staff of six makeup artists offered customers professional services like lash and brow styling, as well as facial makeup.
De Lesquen said, "This is very much getting back to our DNA — the idea that all Dior makeup is inspired and directly developed from backstage."
The opening of the boutique comes on the heels of the publication of a Dior makeup book featuring the work of the beauty brand's three current and former artistic directors — the current leader, Peter Philips; Tyen, and Serge Lutens.
The makeup brands include a major focus on lips, including the recently launched Rouge Dior with its 50 shades in three finishes and five more colors expected next spring. Then there is the Backstage Pros line, professional products developed by Philips. The star product is the best-selling Lip Glow, which has the shine of a gloss and the thickness of a lipstick.
De Lesquen added, "There will be a lot of digital activities inside and outside the boutique; the clients have a chance to experience a lot of new digital innovations."
One example is Mix & Match, a video table where a customer can change colors on the hands and lips of a model pictured on a screen by laying down a lipstick or nail enamel.
Roughly 80 to 85 percent of the space is dedicated to makeup, with a storewide assortment of 631 total stockkeeping units. There is also a perfume bar focusing mainly on J'adore, Miss Dior, Sauvage and Dior Homme, plus other scents.
The new boutique is the fourth that Dior has opened in the U.S. following the first in Caesar's Palace in Las Vegas followed by others in Highland Park Village in Dallas and Valley Fair Mall in San Jose, Calif. But the others have assortments that are more equally balanced between Dior's other product pillars, including fragrance, its number one category.
"We want to bring this boutique as our number-one beauty point of sale, number one in makeup," he said, referring to New York.
The New York boutique is the first to focus squarely on makeup and color — for a reason.
"We have been less dynamic in the makeup category," De Lesquen said, pointing that color cosmetics is the most dynamic category in the market. "New brands, and in particular new indie brands, are coming and bringing a lot of innovation and we believe Dior has its role to play to speak to attract and to elevate the desire of a younger clientele. There are several projects that are in the kitchen that are cooking as we speak in terms of product innovation."