Dior: from paris to the world - Luxury Retail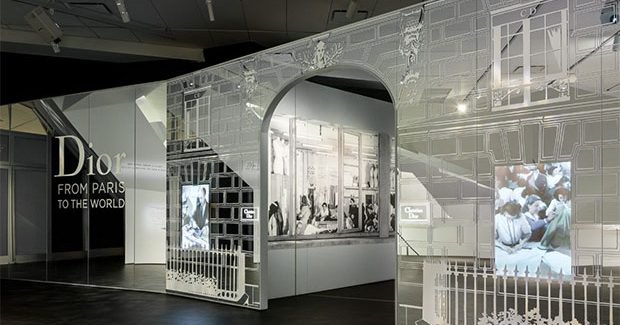 "Dior: From Paris to the World" surveys 70 years of the House of Dior's enduring legacy and its global influence.
A selection of more than 200 couture dresses, as well as accessories, costume jewelry, photographs, drawings, runway videos, and other archival material, will trace the history of the iconic haute couture fashion house, its founder, Christian Dior, and the subsequent artistic directors who carried Dior's vision into the 21st century.
Christian Dior, the art gallerist who became a celebrated couturier, generated a revolution in Paris and around the globe after World War II. Dior created haute couture expressing modern femininity, completely shedding the masculine silhouette that had been established during the war. He conceived sophisticated designs featuring soft shoulders, accentuated busts and nipped waists that marked the beginning of an epic movement in fashion history that would eventually lead to Dior successfully becoming the first worldwide couture house.
The chronological presentation, showcasing pivotal themes in the House of Dior's history, will focus on how Christian Dior cemented his fashion house's reputation within a decade and will highlight how his successors, Yves Saint Laurent, Marc Bohan, Gianfranco Ferré, John Galliano, Raf Simons, and Maria Grazia Chiuri, incorporated their own design aesthetic.
"Dior: From Paris to the World will give our visitors insight into the House of Dior's creative process and inspirations that contributed to its unparalleled impact on the fashion world, which continues to reverberate today," said Christoph Heinrich, Frederick and Jan Mayer Director of the DAM. "This exhibition will encourage audiences to think differently about the boundaries of fashion as art, and advance the museum's commitment to taking viewers behind the scenes to reveal Dior's imaginative and innovative endeavors."
This exhibition is organized by the DAM and curated by Florence Müller, the DAM's Avenir Foundation Curator of Textile Art and Fashion. It features exhibition design by internationally renowned architect Shohei Shigematsu, principal of OMA New York. Following its run at the DAM, this exhibition will travel to the Dallas Museum of Art.