Coca-Cola new bottle by Trussardi - Luxury Retail
Trussardi and Coca Cola team up for chic limited edition bottles and cans
Coca Cola and Trussardi are the latest to join hands in a quirky collaboration. The Italian luxury apparel and accessories company will add some pizzaz to Coke bottles and cans with their stylish aesthetic. 
Limited-edition Coca-Cola Light by Trussardi
Italian fashion house Trussardi will "dress" the iconic curved glass Coca-Cola bottle on the occasion of its 100th anniversary.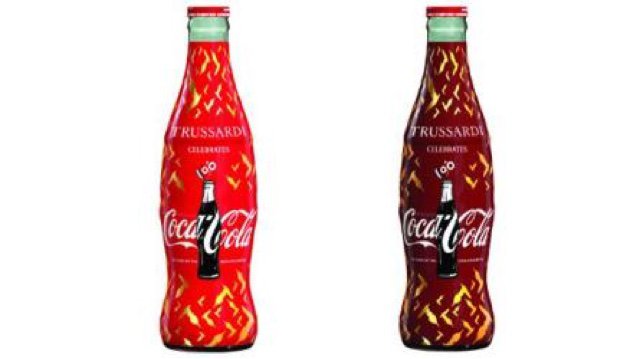 The bottles are clad in rich red and brown (the colors associated with the brand and the cola itself) accented with celebratory gold as the Trussardi logo shares space with the iconic Coca Cola logo.
The cans take on a life of their own. Coca Cola Light is presented in 2 tins artistically splashed with acidic green, purple, blue and pink colors and bold patterns. A third design features a gold backdrop printed to resemble lizard leather.
"Both parties were very enthusiastic about the collaboration, which simultaneously underlines the Italian nature of Coca-Cola and the brand's proximity to our national specialties," marketing director of Coca-Cola Italia Fabrizio Nucifora adding, "Moreover, while past versions of Coca-Cola Light are already famous in the fashion world, 2015 will make history because not only will a maison dress the [original Coca-Cola] bottle for the first time but it will do so in the year of its centenary and the year of Expo Milano 2015."
Coca-Cola had teamed with brands such as Marc Jacobs, Salvatore Ferragamo and Moschino on limited-edition cans and bottles before.
The two limited-edition 330ml glass Coca-Cola bottles will be available at the Expo Milan Coca-Cola pavilion and at the Trussardi Caf from June to October 2015.