Abu Dhabi Art - Luxury Retail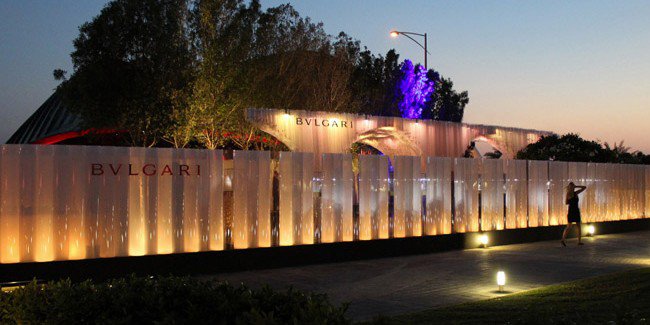 Abu Dhabi Art Fair is set to become an important center for filing and publicizing emerging young talent in the art world.

Abu Dhabi Art Fair in Saadiyat Island is set to become the new Frank Gehry's Guggenheim
Bvlgari commissioned the architectural firm to design a pavilion NaNa impressive. A signature is ceded a large space, outdoors, at the entrance of reciento. The idea was to create a room for VIPs and dignitaries of this important art fair.
Bvlgari Pavilion in Abu Dhabi Art was conceived as a temporary installation, a very exclusive and private 300m2 with capacity for 150 people, with a setting where you can play live music, a bar and an exhibition where you could admire a selection line of high-end jewelry Bvlgari in showcases.
The self-supporting structure of acrylic tubes, polycarbonate connectors, generated an interesting lighting effect. The aim was to provide an alternative experience manipulating the changing conditions of the sun, for light to flow through this structure as water, lighting or darkening the different areas of the pavilion.
Support tables, which reproduced the form of rings B Zero One, interspersed with orange blossom and geysers that seemed to come from a concrete floor, to finish joining forming an archway covered. The result was a bold and unexpected space, but that played to perfection Bvlgari DNA, characterized by the use of technology and more creative and sophisticated techniques when making jewelry.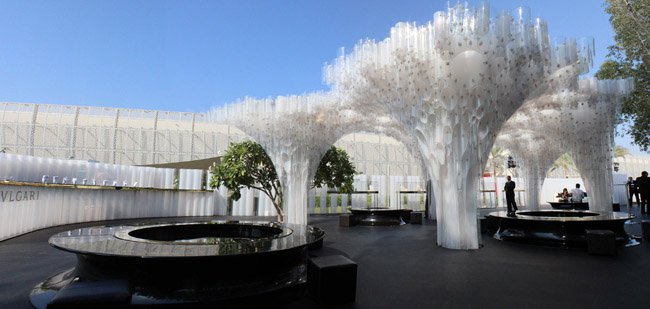 By embelezzia.com