CHANEL Boutique reopening NYC - Luxury Retail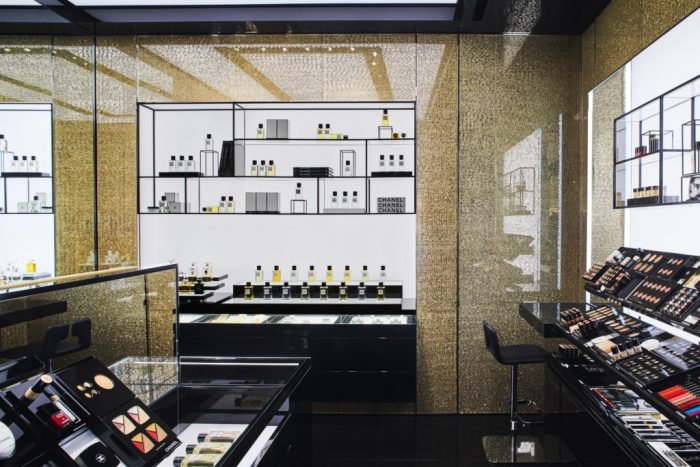 CHANEL reopened a newly designed New York flagship on 57th Street
First opened in 1996, the now 14,000 square-foot boutique is the ultimate New York CHANEL destination, including Ready- to-Wear, handbags, shoes, costume jewelry and eyewear. The boutique also houses Watches & Fine Jewelry and Fragrance & Beauty.
The largest US boutique to date, designed by Peter Marino, as a celebration of the House that seamlessly extends the brand's presence from the inside out. Harmoniously combines the values of CHANEL – creativity, high fashion, craftsmanship, and exclusive materials.
Fascinating graphic exterior composed of white printed glass panels framed by a thin black metal grid. The striking glass façade covers six stories, with the interior retail space expanded from three to five floors.
One of the first thing greets every client is a dramatic sculpture of an entwined necklace that cascades down the center of the four-story central staircase. A huge piece crafted in mirrored stainless steel and gilded glass beads, it appears as though magically suspended from the ceiling, visually drawing the eye upwards to the top of the boutique.
Each area is defined by its own aesthetic story, while reflecting a mix of products across categories that complement each other. In the first floor, the main attention is for Watches & Fine Jewelry salon. Second – features the shoe salon, also houses a diverse selection of accessories. In the third one, guests will find two Ready-to-Wear salons and a dedicated space for knitwear.
And the last – fifth floor, designed to have a residential feel, is reserved for privatized shopping experiences.
Every element in the boutique was thoughtfully chosen to present the brand's and Mademoiselle Chanel's legacy as a passionate patron of the arts. The boutique will open with the arrival of the Cruise 2018/19 collection, first presented in Paris this year.
In celebration of the flagship, a capsule of exclusive products has been created, also including a limited edition 2.55 handbag and wallet. The 57th Street boutique will also feature a limited edition steel Code Coco watch with diamond-set bezel and mirror dial. To round out the exclusive offering, the boutique will be feted with the launch of a new scent, Les Exclusifs de CHANEL 1957, a layered musk fragrance created by CHANEL's in-house perfumer Olivier Polge.